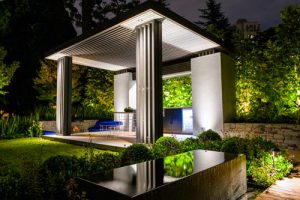 Show Garden Gold Medal | City of Melbourne Award of Excellence for Best in Show
Mark Browning Landscape Design collaborated with Lisa Ellis Gardens to design "Quietude", designed to take the viewing public to a state of calmness, stillness. Mark Browning Landscape Design headed up the overall design including the layout of the landscape and the design and documentation of all hard landscape elements including the pavilion, decking and paving, bluestone walling, trough and feature landscape boulders. Lisa Ellis Gardens headed up the soft landscape selections including planting palette, soft furnishings and sculpture selections.
Quietude was constructed by Kiama Landscapes and Pools.
Key suppliers to Quietude included:
Bamstone: Australian bluestone and basalt including trough, fireplace base and plinth, etched "Quietude" signage.
Frencham Cypress: Australian White Cypress timber decking, cladding and feature posts.
MyAlfresco: Kitchen joinery including bar and fridge.
Estia Designs: "Orb" Fireplace.
Grazia & Co: Bespoke outdoor dining setting and casual seat cushioning and scatters.
Gardens at Night: Outdoor Lighting.
Lump Sculpture Studio: Feature Sculptures and Pond.
Cinema King: Sound.
Fultons Garden Supplies: Construction materials.
Mapei: Construction adhesives.
Quantum Timber Finishes: Timber stains.
Warners, Flemings, Smith and Gordon Nurseries: Plant Life.
Lilydale Instant Lawn: Lawn.